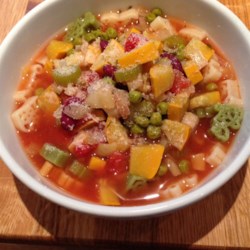 Another recipes from my friends at
allrecipes.com
. I put this together Saturday night, put the crock in my refrigerator, and then pulled it out Sunday morning and cooked it for 6 hours. We served this with grilled garlic bread. YUM! It was very hearty and delicious. Since the soup had so many vegetables, we left off the salad and just had an extra ladle of soup instead.
If you have a houseful of meat eaters, you could easily modify this by using chicken broth and a couple of cups of cooked chicken, or beef broth with a pound of browned ground beef. We aren't vegetarians, so I don't have veggie stock on hand. However, I have lots of chicken stock, and that's what formed the base of my soup. I didn't add chicken and we really didn't miss it.
Since I'm committed to using what I have on hand, I made a few changes.
Used diced tomatoes instead of crushed.
Used onion and garlic powder instead of fresh. My kids tend to balk at visible onion.
Instead of zucchini, I used a bag of frozen gumbo starter vegetables that had been languishing in my freezer for some time now. I also used frozen spinach rather than fresh.
I cooked my pasta on Saturday night. Before serving, I put the pasta in the bowls and poured the soup over it. The soup was hot enough to warm up the refrigerated pasta.
This is a delicious, versatile recipe. Feel free to vary the vegetables, the type of beans, add meat, etc.
| | |
| --- | --- |
| Slow Cooker Vegetarian Minestrone | |



| | |
| --- | --- |
| Rated: | |

Photo By:

Purple Cat Pics

Cook Time:

6 Hours 15 Minutes

Ready In:

6 Hours 35 Minutes
"Easy vegetarian minestrone soup simmered in the slow cooker is loaded with vegetables and macaroni for a warm weeknight dinner."
6 cups vegetable broth

1 (28 ounce) can crushed

tomatoes

1 (15 ounce) can kidney beans

, drained

1 large onion, chopped

2 ribs celery, diced

2 large carrots, diced

1 cup green beans

1 small zucchini

3 cloves garlic, minced

1 tablespoon minced fresh

parsley

1 1/2 teaspoons dried oregano

1 teaspoon salt

3/4 teaspoon dried thyme

1/4 teaspoon freshly ground

black pepper

1/2 cup elbow macaroni

4 cups chopped fresh spinach

1/4 cup finely grated

Parmesan cheese, or more to

taste
| | |
| --- | --- |
| 1. | Combine vegetable broth, tomatoes, kidney beans, onion, celery, carrots, green beans, zucchini, garlic, parsley, oregano, salt, thyme, and black pepper in a 6-quart slow cooker. |
| 2. | Cook on Low for 6 to 8 hours. |
| 3. | Bring a large pot of lightly salted water to a boil. Cook elbow macaroni in the boiling water, stirring occasionally until cooked through but firm to the bite, 8 minutes; drain. |
| 4. | Stir spinach and macaroni into minestrone; cook another 15 minutes. Top with Parmesan cheese. |